From "Me" to "We" – Putting Relationship First Helps Balance Work and Life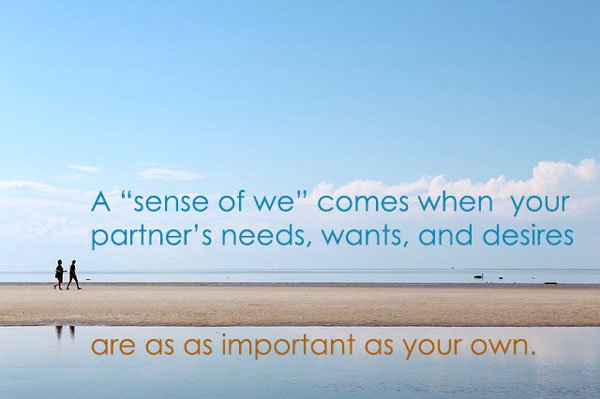 If you're working and living near a major city like Washington, DC, everyday life can pull you in dozens of different directions. Priorities rush at you from every side. There's this business meeting – the message from your loved one – game time with friends – that family commitment – and what about grocery shopping and laundry, and the car that needs attention?
By day's end you're frazzled, unraveled, spent, and exhausted, and no one's made any plans about dinner. Now you're frustrated, discontent, and hungry! You don't want things to be this way….
Modern life strains our relationships in ever-changing ways. You don't want to sacrifice a loving relationship for work.  But with everything going on, how can you make more time for each other when you can't even stay on top of your own life? Why do some relationships seem to break down under the stress of careers and personal commitments, while others seem to hum along as strong as ever?
The good news is there's help for all these conflicting priorities, and it's closer than you might think.  A partnership that rests on a foundation of "us first" provides clarity and strength to deal with competing demands. Time you spend with your partner to focus on what really matters for you and your relationship allows you to set healthy limits. Putting your relationship first is key to calming and simplifying the way you get through – even thrive – every day.
So what does this attachment feel like? What does it mean to put the relationship first?
What Is a "Sense of We"?
A "sense of we" comes when each of you accepts that your partner's needs, wants, and desires are just as important as your own. Rather than having separate goals for life, under the same roof, "we‑ness" means sharing the trials and goals of life between you. You and your partner help each other see what's most important, and how you can help each other face hardships and reach dreams in ways that work for you both.
The security and support you each feel comes from tending your relationship first. This works because your healthy attachment to your loved one is the ultimate foundation for everything else. It is possible to maintain your busy workweek or nights out with friends – not by hijacking the relationship – but by reaching agreement about your activities.
When it comes to decisions that impact your home life, "we‑ness" means being mindful that the wellbeing of your partnership comes first. This doesn't mean giving up work travel or bowling night, but it does mean talking through how it impacts your partner and your family, and what each person needs from the other to be okay.
The Challenges to Modern Relationships
Modern relationships must overcome many challenges to thrive. Newly married couples often struggle with transitioning from friend-centered to spouse-centered social lives. Unfortunately, when one partner continues with former social activities outside the home, as if by default, the other is often left wondering, "What about me?" Balancing old relationship dynamics with new ones can be difficult — particularly when it never seems like there are enough hours in a day.
It's normal for partners to have different interests, like book clubs versus nights watching the game. But the effects of these separations are amplified in a world in which the average workweek is steadily creeping upward to a full 47 hours per week, according to a Gallup poll — nearly an entire extra workday!
Travel is another major hurdle for a secure relationship. Some couples who travel extensively for work or family reasons only see each other two or three times a month. While this can stress a marriage to its breaking point, it doesn't have to. It all depends on what you and your partner agree to do to support your connection. Couples who collaborate to meet this challenge carefully can defend their relationship against damage.
Moving From Me to We
Consider this example: I work with John and Kate (not their real names)*, a married couple in their 40s. John's elderly mother lives in London, and is reaching the point where she can no longer live alone. John is quite worried and distracted by this situation, which strains an already stressed relationship with Kate. During a recent session, as John explained his concerns, Kate told him, "You've never even asked me if I would be willing to move to London so we could help your mom."
The option to turn toward each other to face this issue together was new to Kate and John. Until that time, John felt like he was shouldering a solitary burden, while Kate resented being left out of something so important. Had John simply asked Kate to help him figure things out, they could face it side-by-side, rather than oppose each other. Instead of feeling torn, they could feel each other's support and care. Before learning to open up to Kate, meanwhile, John fell victim to a common communication gap between loved ones. As EFT expert Dr. Sue Johnson sums it up, "They think they are deciding for protection but in fact, they are stepping into a prison of their own making."
"The Sound Relationship House"
While developing a "sense of we" seems simple in theory, it's both hard and rewarding to do. Let's say your partner has been offered a job on the opposite coast. Whether you agree to move as a couple, live apart, or split your time between coasts, it's critical to evaluate the potential losses in each scenario, and to proactively tend to them in order to keep the relationship moving forward. But where do you even begin?
Internationally renowned therapists Drs. John and Julie Gottman have created the "Sound Relationship House," — a nine-point blueprint for better relationships. Tactics include understanding your partner's psychology; sharing affection and admiration; turning toward "the building blocks of relationships," (the small, everyday opportunities to connect); maintaining a positive approach; managing conflict; talking about your dreams; sharing your goals; trusting that your partner is acting in your best interest; and committing to an ongoing involvement with each other.
Ultimately, building your own "Sound Relationship House" doesn't mean sacrificing everything for the good of the relationship. However, it does mean making problem solving a priority.  Both of you will need to compromise and be flexible to consider your needs given the situation. While an ideal, "perfect world" outcome may be unrealistic, strengthening your relationship by maintaining a "sense of we," is entirely within reach.
*Names and details have been changed to protect the privacy of the people involved.
More Resources
STILL READING! THAT SAYS SOMETHING ABOUT YOU.  SHARE WHAT YOU'VE FOUND WITH A, LIKE, PLUS-ONE OR TWEET!
Get More Like This
Join hundreds who get great relationship tips by email.
Were Here When You Need Us
Contact Mount Vernon Therapy, for confidential, caring couples therapy, individual therapy and marriage counseling.  703-768-6240
Serving Alexandria, Annandale, Arlington, Belle Haven, Burke, Fort Belvoir, Fort Hunt, Franconia, Groveton, Huntington, Hybla Valley, Mount Vernon and other Northern Virginia locations
Was this post helpful?
Let us know if you liked the post. This helps us plan more for you.