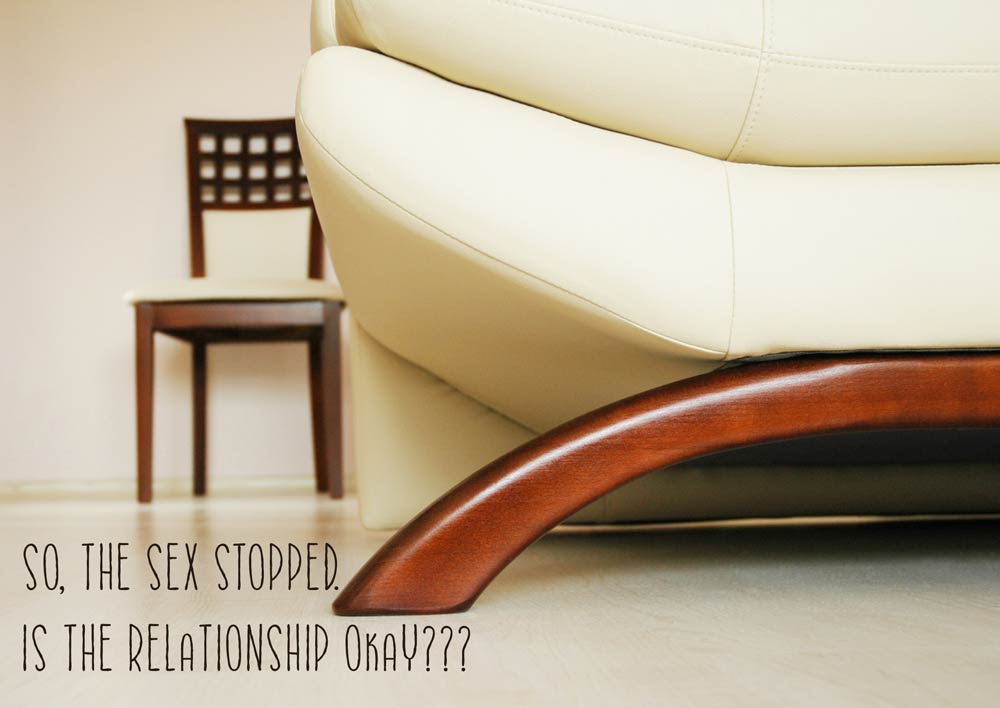 The No-Sex Marriage: What You Need to Know
Relationships are like snowflakes: no two are alike.
Lack of sex in marriage is a more common problem than one might think. Many couples — whether married or not — get frustrated by a lack of intimacy at some point in their relationship.
The truth is that lack of sex is rarely about sex itself, but instead may originate from a number of other life events.
Why do partners stop having sex? This is an important question. Reasons vary and can include:
job stress
new parenthood to
abuse of pornography, drugs, or alcohol
Whatever the reason, underneath, your happiness and your sex life is about the need for emotional connection.
If you're wondering whether no sex in your marriage is okay, here's what you need to know.
Is A Sexless Marriage Okay? It Depends on Meaningful Connection
Human relationships are dynamic.
Just as people change over time, so do their relationships. Low periods of sexual activity are perfectly normal in a marriage or other long-term relationship. This is not always a problem.
When both partners are equally disinterested in engaging in sexual activity, the marriage may actually be a satisfying one.
How?
Because some couples find meaningful connection other ways.  They show appreciation for each other. They share experiences, and friendly acts of affection, such as eye contact, hugs, and smiles. Some find meaningful connection this way without sexual intimacy.
What if you  have different levels of interest in sex with each other? Just because something is "normal" doesn't mean it's best for you. Many couples may ask themselves, "Where did the fun go?" If left unchecked, this sentiment may eventually lead to feelings of resentment, deprivation, and distress, all of which threaten the security of a marriage or relationship.
So what do you do if you're reaching this critical point? While falling in love may seem simple, staying in love involves courage—more courage than you may have ever expected.
It's important to keep in mind that love is both sturdy and fragile. When each partner would rather suffer in silence than face the issues involved, love breaks down. But couples can learn to talk about what is wrong, compassionately.
When couples figure out how to share what each is struggling with, without hurtful judgments, love grows stronger. Our greatest fears are no match for love that that emerges from careful listening and understanding.
Sexual attraction isn't automatic. It needs nurturing. It grows on true friendship beneath the romance. Satisfying sex comes from kind attention, as each person does their best to understand the other.
Learning to listen deeply to your partner is a process, not a product. Your process influences every aspect of your relationship, including sex.
How to Balance the Conversation with Your Partner
Whether you're the interested or disinterested partner, bringing up your feelings about lack of sex in your marriage can leave you feeling vulnerable. Self-doubts emerge: do you feel unloved, unappreciated or unattractive? Looking deeper into a lack of sex can bring us face-to-face with our deepest fears: feeling rejected, unwanted or abandoned.
The latest research on human love highlights our basic need for attachment, safety, and trust in our partner. Not only are we hard-wired for these feelings, but our needs for a loving bond won't go away if they're ignored; in fact, ignoring such longings only makes them worse. This is why honest, open communication is essential. Open, mutual awareness is the first step to help couples find their way back to closeness and intimacy.
As human beings, we need to feel connected: in fact, this is a driving force of human existence. For many people, lack of sex derives from a decline in feelings of closeness and connection: if you don't feel good about yourself or your partner, these feelings can interfere with your sex drive.
How Counseling Can Help
The prospect of facing the deeper feelings behind a lack of sex can be terrifying. But there's no shortcut to restoring intimacy. It's important to take time to consider what is going on with your relationship and why. By first understanding one's own wants, and our partner's longings and fears, we find new ways to share them and allow feelings of warmth to grow. We can begin to melt the ice that may have frozen our sex life.
Small steps are all that is needed to make progress. Emotionally Focused Therapy (EFT) plays a valuable role in facilitating healing within your relationship. EFT gives therapists and couples a roadmap to uncover doubts, concerns, and longings that may have fueled strife or distance. When a couple can finally see the emotional landscape between them, they begin to truly understand each other. EFT therapy applies the last 50 years of research findings about our basic emotional framework, to help people see and meet their partner's greatest needs.
While facing up to the lack of sex in a marriage may seem quite scary at first, doing so can help you recover the intimacy you want — both emotional and physical. Even if your situation seems overwhelming and insurmountable, there is hope. EFT couples therapy has demonstrated a high rate of success, by providing a safe, guided framework to disclose the deeper needs below the surface. In short, EFT helps partners find a process to disclose feelings and respond in ways that deepen bonds and enrich the relationship.
More Resources
Bring More Balance, Joy and Love Into your Life
Join thousands of readers who come for articles like this each month.
Were Here When You Need Us
Contact Mount Vernon Therapy, for confidential, caring couples therapy, individual therapy and marriage counseling.  703-768-6240
Serving Alexandria, Annandale, Arlington, Belle Haven, Burke, Fort Belvoir, Fort Hunt, Franconia, Groveton, Huntington, Hybla Valley, Mount Vernon and other Northern Virginia locations
Was this post helpful?
Let us know if you liked the post. That's the only way we can improve.